Tecnologías limpias como fuente de ventaja competitiva empresarial
Palabras clave:
Contaminación ambiental; tecnologías limpias; ventaja competitiva empresarial; ecoeficiencia; costos ambientales
Resumen
La contaminación ambiental es uno de los más grandes problemas que ha afectado a la humanidad desde hace muchos siglos, y dicha situación comenzó a acentuarse a partir de la Primera Revolución Industrial hasta la actualidad, siendo ocasionada por las empresas y las personas. Los consumidores desde la década de 1970 empezaron a manifestar su preocupación por la depredación del ecosistema, procurando la adquisición de productos ecológicos y exigiendo a las empresas el replanteamiento de sus estrategias y técnicas de producción. Dentro de las mejoras en las técnicas de producción, se considera la implementación de tecnologías limpias como una solución viable para que las empresas puedan controlar la contaminación que generan desde el inicio de su ciclo productivo. El presente artículo de revisión, por medio de un extenso análisis bibliográfico, aborda la relevancia que tienen las tecnologías limpias como una fuente de ventaja competitiva empresarial, debido a que toda aquella empresa que implemente estrategias ambientales (incluyendo la adopción de tecnologías limpias) podrá realizar un mejor análisis de sus costos ambientales, construyendo una imagen corporativa fuente y obteniendo una mayor ventaja sobre sus competidores. El principal objetivo de este artículo de revisión es concientizar a los lectores y demás miembros de la comunidad científica sobre la repercusión de la adopción de las tecnologías limpias en la mejora de la calidad de vida; no solo de las personas, sino también de los demás seres vivos sobre el planeta.
Descargas
Los datos de descargas todavía no están disponibles.
Citas
Aimiuwu, E. (2017). Efficacy of social media to promote green technology use. Tesis doctoral. ProQuest Dissertations & Theses Global. UMI No. 10620996.
Albán, A., y Rosero, J. (2016). Colonialidad de la naturaleza ¿imposición tecnológica y usurpación epistémica?: Interculturalidad, desarrollo y re-existencia. Nómadas, 45, 27-41. doi: 10.30578/nomadas.n45a2
Andrade, L., Pinheiro, P. V., Saeed, A., y Pinheiro, E. (2019). R&D Spillovers, innovation and market value: Evidence of absorptive capacity in the generation of clean technologies. Estudios de Economía Aplicada, 37(2), 1-14.
Antúnez, A. (2015). La auditoría ambiental como función de la administración pública en la protección del bien público ambiental, para construir la empresa amigable con el ambiente como meta del desarrollo sostenible. Criterio Libre, 13(22), 80-97. doi: 10.18041/1900-0642/criteriolibre.2015v13n22.125
Antúnez, A., y Fuentes, E. N. (2016). Las infotecnologías y el derecho cívico a la información. Revista Argumenta, 25, 37-60. doi: 10.35356/argumenta.v0i25.868
Antúnez, A., y Ramírez, A. (2016). La potestad inspectiva v/s la auditoría pública: Ojeada histórica dentro del derecho administrativo ambiental cubano. Revista de Derecho UNED, 18, 527-565. doi: 10.5944/rduned.18.2016.16883
Ashraf, N., Comyns, B., Arain, G. A., y Bhatti, Z. A. (2019). The roles of network embeddedness, market incentives, and slack resources in the adoption of clean technologies by firms in developing countries. Climate Policy, 19(5), 556-570. doi: 10.1080/14693062.2018.1534722
Astill, G. M. (2016). Investment valuation of green technology accounting for scale effects, scope effects, and externalities: An application to anaerobic digester systems. Tesis doctoral. ProQuest Dissertations & Theses Global. UMI No. 10139526.
Azevedo, S. (2015). Incubadoras como vetores para a promoção de tecnologias limpas em empreendimentos de pequeno porte: possibilidades e limites. Revista de Administração Mackenzie, 16(1), 188-212. doi: 10.1590/1678-69712015/administracao.v16n1p188-212
Bailey, A. A., Mishra , A. S., y Tiamiyu, M. F. (2018). Application of GREEN scale to understanding US consumer response to green marketing communications. Psychology & Marketing, 35(11), 863-875. doi: 10.1002/mar.21140
Barros, C., y García, I. (2018). Uso de nuevas tecnologías para obtener una producción más limpia. INNOTEC, 14, 116-121. doi: 10.26461/17.03
Bek, M., Spörrle, M., Hedjasie, R., y Kerschreiter, R. (2016). Greening the competitive advantage: antecedents and consequences of green brand equity. Quality & Quantity, 50(4), 1727-1746. doi: 10.1007/s11135-015-0232-y
Choy, E. E. (2018). Contabilidad de gestión ambiental y costo de servicio salud hospitalario - Lima Metropolitana. Quipukamayoc, 26(51), 91-99. doi: 10.15381/quipu.v26i51.15138
Chuang, S.-P., y Huang, S.-J. (2018). The effect of environmental corporate social responsibility on environmental performance and business competitiveness: the mediation of green information technology capital. Journal of Business Ethics, 150(4), 991-1009. doi: 10.1007/s10551-016-3167-x
Corredor, G. (2018). Colombia y la transición energética. Ciencia Política, 13(25), 107-125. doi: 10.15446/cp.v12n25.70257
Cury, K., Aguas, Y., Martinez, A., Olivero, R., y Chams, L. (2017). Residuos agroindustriales su impacto, manejo y aprovechamiento. Revista Colombiana de Ciencia Animal, 9(S1), 122-132. doi: 10.24188/recia.v9.nS.2017.530
Dai, Z., Guo, L. y Jiang, Z. (2016). Study on the industrial eco-efficiency in East China based on the super efficiency DEA model: an example of the 2003-2013 panel data. Applied Economics, 48(59), 5779-5785. doi: 10.1080/00036846.2016.1184380
Demirel, P., Li, Q. C., Rentocchini, F., y Tamvada, J. P. (2019). Born to be green: new insights into the economics and management of green entrepreneurship. Small Business Economics, 52(4), 759-771. doi: 10.1007/s11187-017-9933-z
Doganova, L. y Karnøe, P. (2015). Building markets for clean technologies: controversies, environmental concerns and economic worth. Industrial Marketing Management, 44, 22-31. doi: 10.1016/j.indmarman.2014.10.004
Droste, N., Hansjürgens, B., Kuikman, P., Otter, N., Antikainen, R., Leskinen, P., Thomsen, M. (2016). Steering innovations towards a green economy: understanding government intervention. Journal of Cleaner Production, 135, 426-434. doi: 10.1016/j.jclepro.2016.06.123
Du, K. y Li, J. (2019). Towards a green world: How do green technology innovations affect total-factor carbon productivity. Energy Policy, 131, 240-250. doi: 10.1016/j.enpol.2019.04.033
Espínola-Arredondo, A., Munoz-Garcia, F., y Liu, B. (2019). Strategic emission fees: using green technology to deter entry. Journal of Industry, Competition & Trade, 19(2), 313-349. doi: 10.1007/s10842-019-00292-6
Fajardo, H. (2017). La producción más limpia como estrategia ambiental en el marco del desarrollo sostenible. Revista Ingeniería, Matemáticas y Ciencias de la Información, 4(8), 47-59. doi: 10.21017/rimci.2017.v4.n8.a32
Fernando, Y., Wah, W. X., y Shaharudin, M. S. (2016). Does a firm's innovation category matter in practising eco-innovation?: Evidence from the lens of Malaysia companies practicing green technology. Journal of Manufacturing Technology Management, 27(2), 208-233. doi: 10.1108/JMTM-02-2015-0008
Goel, P., y Sharma, S. (2017). Impact of green marketing on consumer's perception and preferences. Splint International Journal of Professionals, 4(4), 39-43.
Grovermann, C., Wossen, T., Muller, A., y Nichterlein, K. (2019). Eco-efficiency and agricultural innovation systems in developing countries: evidence from macro-level analysis. PLoS ONE, 14(4), 1-16. doi: 10.1371/journal.pone.0214115
Ha, Y. (2016). Green growth: paradigm shift or business-as-usual? Tesis doctoral. ProQuest Dissertations & Theses Global. UMI No. 10055813.
Hall, J., Matos, S., y Bachor, V. (2019). From green technology development to green innovation: inducing regulatory adoption of pathogen detection technology for sustainable forestry. Small Business Economics, 52(4), 877-889. doi: 10.1007/s11187-017-9940-0
Hernández, J. C., Herrera, J. D., y Jácome, L. A. (2017). Herramientas de producción más limpia, para el proyecto bovino pie de cría de la UFPSO. Revista Colombiana de Tecnologías de Avanzada, 1(29), 16-21. doi: 10.24054/16927257.v29.n29.2017.2481
Hernández, L. H. (2018). Energías limpias, poder local y procomún colaborativo. Ciencia Política, 13(25), 127-145. doi: 10.15446/cp.v12n25.69338
Hishan, S. S., Sasmoko, Khan, A., Ahmad, J., Hassan, Z. B., Zaman, K., y Qureshi, M. I. (2019). Access to clean technologies, energy, finance, and food: environmental sustainability agenda and its implications on Sub-Saharan African countries. Environmental Science and Pollution Research, 26(16), 16503-16518. doi: 10.1007/s11356-019-05056-7
Hottenrott, H., Rexhäuser, S. y Veugelers, R. (2016). Organisational change and the productivity effects of green technology adoption. Resource and Energy Economics, 43, 172-194. doi: 10.1016/j.reseneeco.2016.01.004
Hurtado, R. C. (2018). Costos ambientales en la gestión de desechos sólidos en los hospitales generales de la ciudad de Loja 2014-2015. Quipukamayoc, 26(51), 21-32. doi: 10.15381/quipu.v26i51.14872
Kardos, M., Gabor, M. R., y Cristache, N. (2019). Green marketing's roles in sustainability and ecopreneurship. Case study: Green packaging's impact on Romanian young consumers' environmental responsibility. Sustainability, 11(3), 873-884. doi: 10.3390/su11030873
Lahouel, B. B. (2016). Eco-efficiency analysis of French firms: a data envelopment analysis approach. Environmental Economics & Policy Studies, 18(3), 395-416. doi: 10.1007/s10018-015-0115-4
Lara, J. y Moreno, G. (2014). Movilidad urbana en Caracas. Un enfoque desde las tecnologías limpias para la formación de competencias ciudadanas para el desarrollo sostenible. Provincia, 31, 11-48. Recuperado de la base de datos Fuente Académica Premier de EBSCOhost.
Lin, Y.-H. y Chen, Y.-S. (2017). Determinants of green competitive advantage: the roles of green knowledge sharing, green dynamic capabilities, and green service innovation. Quality & Quantity, 51(4), 1663-1685. doi: 10.1007/s11135-016-0358-6
Liu, B. (2015). Environmental policy, greenhouse gas polluting inputs, and lifecycle analysis. Tesis doctoral. ProQuest Dissertations & Theses Global. UMI No. 3717394.
Macedo, R. N., Pandiella, A., Lascurain, M. L., y Sanz, E. (2017). Tecnologias verdes para um mundo autossustentável: um olhar sobre Brasil e Espanha. Em Questão, 23(2), 277-294. doi: 10.19132/1808-5245232.277-294
Magaña-Irons, L., González-Díaz, Y., Nápoles-Meléndez, L., y Ojeda-Armaignac, E. (2019). Diagnóstico ambiental preliminar y oportunidades de prevención de la contaminación en la Fábrica de Helados Mayarí, Cuba. Tecnología Química, 39(1), 113-125.
Mami, F. (2015). Éco-efficience et analyse des coûts du cycle de vie: Développement d'un outil d'aide à la conception dans l'industrie aéronautique. Tesis de maestría. ProQuest Dissertations & Theses Global. UMI No. 10305372.
Masternak‐Janus, A., y Rybaczewska‐Błażejowska, M. (2017). Comprehensive regional eco‐efficiency analysis based on data envelopment analysis: the case of Polish Regions. Journal of Industrial Ecology, 21(1), 180-190. doi: 10.1111/jiec.12393
Ministerio de Vivienda, Ordenamiento Territorial y Medio Ambiente de Uruguay. (s.f.). Producción más limpia. Recuperado de https://www.mvotma.gub.uy/ambiente/produccion-sostenible/que-es-la-produccion-mas-limpia
Mishra, P., y Sharma, P. (2012). Green marketing: challenges and opportunities for business. Journal Of Marketing & Communication, 8(1), 35-41.
Ni, K.-J. (2015). Legal aspects (barriers) of granting compulsory licenses for clean technologies in light of WTO/TRIPS rules: promise or mirage? World Trade Review, 14(4), 701-719. doi: 10.1017/S1474745614000524
Niero, M., Hauschild, M. Z., Hoffmeyer, S. B. y Olsen, S. I. (2017). Combining eco‐efficiency and eco‐effectiveness for continuous loop beverage packaging systems: lessons from the Carlsberg Circular Community. Journal of Industrial Ecology, 21(3), 742-753. doi: 10.1111/jiec.12554
Ortega, P., Torres-Argüelles, V., Noriega, S., Martínez, E. A., Castaño, V. M., y Solís, S. S. (2015). Conceptos de una industria verde: revisión de literatura. Cultura Científica y Tecnológica, 12(55), 40-51.
Pache, M., Pérez, E., y Milanés, P. (2018). Ecoeficiencia y sus efectos sobre el desempeño económico de las empresas del Dow Jones Sustainability World Index 2016. Prisma Social, 22, 271-295.
Paredes, P. (2014). Producción más limpia y el manejo de efluentes en plantas de harina y aceite de pescado. Industrial Data, 17(2), 72-80. doi: 10.15381/idata.v17i2.12050
Perez, J. J. (2016). Green technology: HVAC in the real estate industry. Tesis doctoral. ProQuest Dissertations & Theses Global. UMI No. 10244716.
Peter, C. (2019). Africa's green opportunity. International Trade Forum, 1, 20-21.
Phungrassami, H., y Usubharatana, P. (2015). Life cycle assessment and eco-efficiency of para-rubber wood production in Thailand. Polish Journal of Environmental Studies, 24(5), 2113-2126.
Porter, M., y Van der Linde, C. (1995). Green and competitive: ending the stalemate. Harvard Business Review, 73(5), 120-134.
Ruiz, A., Jiménez, A., y Patiño, J. D. (2017). Uso y demanda de tecnologías verdes en el sector de la construcción en Cartagena de Indias: Una aproximación teórica y práctica. Saber, Ciencia y Libertad, 12(2), 83-91. doi: 10.18041/2382-3240/saber.2017v12n2.1534
Salas, H. J. (2018a). Marketing ecológico: La creciente preocupación empresarial por la protección del medio ambiente. Fides et Ratio, 15(15), 151-169. Recuperado de http://www.scielo.org.bo/scielo.php?script=sci_arttext&pid=S2071-081X2018000100010&lng=es&nrm=iso&tlng=es.
Salas, H. J. (2018b). El greenwashing y su repercusión en la ética empresarial. Neumann Business Review, 4(1), 28-43. doi: 10.22451/3002.nbr2018.vol4.1.10018
Sandoval, J. L. (2014). Aplicación de tecnologías limpias para la fabricación de envases de vidrio en el Perú. Tesis de licenciatura. Recuperada de http://repositorio.unac.edu.pe/
Saunila, M., Rantala, T., Ukko, J., y Havukainen, J. (2019). Why invest in green technologies?: Sustainability engagement among small businesses. Technology Analysis & Strategic Management, 31(6), 1-14. doi: 10.1080/09537325.2018.1542671
Scharfy, D., Boccali, N., y Stucki, M. (2017). Clean technologies in agriculture - How to prioritise measures? Sustainability, 9(8), 1303-1324. doi: 10.3390/su9081303
Silva, J. L. (2011). Rol de las ecotecnologías, tecnologías limpias y de tratamiento, en el control de la contaminación generada por las curtiembres de Trujillo-Perú. Tesis doctoral. Recuperada de http://dspace.unitru.edu.pe/
Šneiderienė, A., y Ruginė, H. (2019). Theoretical approach on the green technologies development. Regional Formation and Development Studies, 28(2), 124-134. doi: 10.15181/rfds.v28i2.1949
Veugelers, R. (2016). Empowering the green innovation machine. Intereconomics, 51(4), 205-208. doi: 10.1007/s10272-016-0603-1
Villagaray, S. M., y Bautista, E. (2011). Sistemas agroforestales con tecnología limpia en los suelos del VRAEM, Perú. Acta Nova, 5(2), 289-311. Recuperado de http://www.scielo.org.bo/pdf/ran/v5n2/v5n2a07.pdf
Wichaisri, S., y Sopadang, A. (2018). Trends and future directions in sustainable development. Sustainable Development, 26(1), 1-17. doi: 10.1002/sd.1687
Yacob, P., Wong, L. S., y Khor, S. C. (2019). An empirical investigation of green initiatives and environmental sustainability for manufacturing SMEs. Journal of Manufacturing Technology Management, 30(1), 2-25. doi: 10.1108/JMTM-08-2017-0153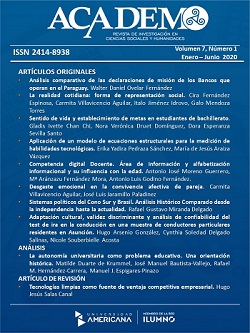 Descargas
Cómo citar
Salas Canales, H. J. (2020). Tecnologías limpias como fuente de ventaja competitiva empresarial. ACADEMO Revista De Investigación En Ciencias Sociales Y Humanidades, 7(1), 97-104. Recuperado a partir de https://revistacientifica.uamericana.edu.py/index.php/academo/article/view/307
Sección
Artículo de Revisión