Los videos como herramienta de desarrollo de la fluidez oral en inglés
Palabras clave:
percepción, expresión oral, video, enseñanza, lengua inglesa
Resumen
Para los estudiantes el desarrollo de la habilidad de expresión oral en inglés es, sin duda, un gran desafío, y al mismo tiempo, influye en la percepción del nivel de habilidad que se posee en el idioma. Esta investigación-acción presentó a un grupo de estudiantes de una escuela pública chilena, una secuencia didáctica enfocada en desarrollar la fluidez oral del inglés a través de la grabación de videos situacionales en los cuales los estudiantes pudiesen observarse a sí mismos hablando inglés y expresar sus percepciones sobre sus habilidades. Para esto los estudiantes respondieron una escala de percepciones sobre la fluidez oral del inglés al inicio de la secuencia didáctica, en la mitad y al final de esta, con el objetivo de explorar la trayectoria de las percepciones de los estudiantes. Mediante el uso de estadística descriptiva, este estudio demostró que la creación de videos tuvo un efecto positivo en los estudiantes, especialmente en el mejoramiento de sus actitudes hacia el idioma inglés.
Descargas
Los datos de descargas todavía no están disponibles.
Citas
Bajrami, L., y Ismaili, M. (2016). The role of video materials in EFL classrooms. Procedia-Social and Behavioral Sciences. 232, 502-506. https://doi.org/10.1016/j.sbspro.2016.10.068
Carney, N., y Foss, P. (2008). Student-produced video: Two approaches. English Teaching Forum, 46, 583-606. https://eric.ed.gov/?id=EJ1096278
Fillmore, C. J. (1979). On fluency. En C. J. Fillmore, D. Kempler, y W. S. Y. Wang (Eds.), Individual differences in language ability and language behavior (pp. 85-102). New York: Academic Press.
Gromik, N. (2009). Producing cell phone video diaries. En M. Thomas (Ed.), Handbook of research on Web 2.0 and language learning. Hershey (PA): Information Science Reference.
Huba, M., y Freed, J. (2000). Learner-centered assessment on college campuses: shifting the focus from teaching to learning. Iowa: Iowa State University.
Kiernan, P. y Aizawa, K. (2004). Cell phones in task-based learning-are cell phones useful language learning tools? Recuperado de https://www.researchgate.net/publication/231897299_Cell_phones_in_task_based_learning_-_Are_cell_phones_useful_language_learning_tools
Maisa, S. (2018). Evaluation of learners spoken English fluency: An experimental study. Recuperado de http://www.languageinindia.com/oct2018/sridharspokenenglishfluencyfinal.pdf
Morrison, A. (2017). Fluency in the EFL chilean classrooms: To what extent do teachers and textbooks promote oral fluency? Recuperado de https://www.teachingenglish.org.uk/sites/teacheng/files/astrid_morrison_university_of_reading_dissertation.pdf
Puspa, A. (2016). Student-made video project to enhance students' learning experience. Recuperado de http://ejournal.unp.ac.id/index.php/selt/article/view/6911
Rosario, P.D. (2010). Lights, camera, action! student-produced videos in an English Language Program. Recuperado de https://www.semanticscholar.org/paper/Lights%2C-camera%2Caction!studentproducedvideosinRosario/b22f25474e3d335f015f36eea1889b973ab83094
Rossiter, M., Derwing, T., Manimtim, L. G., y Thomson, R. (2010). Oral fluency: the neglected component in the communicative language classroom. The Canadian Modern Language Review, 66, 583-606. doi: 10.3138/cmlr.66.4.583
Segalowitz. N. (2010). Cognitive bases of second language fluency. New York: Routledge.
Stockwell, G. (2007). Vocabulary on the move: Investigating an intelligent mobile phone-based vocabulary tutor. Computer Assisted Language Learning, 20(4), 365–383.
Tavakoli, P. (2016). Fluency in monologic and dialogic task performance: Challenges in defining and measuring L2 fluency. International Review of Applied Linguistics in Language Teaching, 54, 33-150. https://doi.org/10.1515/iral20169994
Tavakoli, P., y Skehan, P. (2005). strategic planning, task structure and performance testing. Language Learning & Language Teaching, 239-273. http://dx.doi.org/10.1075/lllt.11.15tav
Thornton, P., y Houser, C. (2005). Using mobile phones in English Education in Japan. Journal of Computer Assisted Learning, 21, 217–228.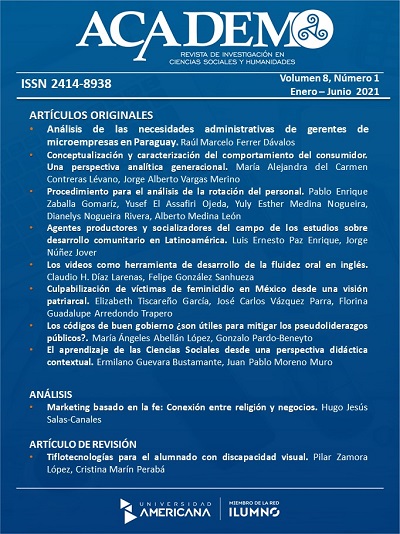 Cómo citar
Díaz Larenas, C. H., & Gon´zález Sanhueza, F. (2021). Los videos como herramienta de desarrollo de la fluidez oral en inglés. ACADEMO Revista De Investigación En Ciencias Sociales Y Humanidades, 8(1), 55-66. Recuperado a partir de https://revistacientifica.uamericana.edu.py/index.php/academo/article/view/436
Sección
Artículos Originales
Licencia
Derechos de autor 2021 ACADEMO Revista de Investigación en Ciencias Sociales y Humanidades
Esta obra está bajo una licencia internacional Creative Commons Atribución 4.0.
Esta obra está bajo una licencia internacional Creative Commons Atribución 4.0.